GMP Medical Device Master Reference Guide
Upgrade your order or view other GMP Products that you may be interested in:
2 Day Device GMP Boot Camp - November AC
Don't just get the books! Get the Training!
---
2 Day Medical Device GMP 21 CFR Part 820 and
ISO 13485 (2003-2016) Conference
GMP Training from the Auditor's Perspective
8 - 9 November, 2018 - Atlantic City, New Jersey
---
(For Drug GMP Boot Camps Click Here)
$995.00 USD - Sign-up Today!
Courtyard Marriott
Atlantic City
All Boot Camps Conferences Includes:
GMP Seminar Binders
Handbooks
Certificates of Attendance
Breakfast, Lunch and Refreshments
Day 1 Topics
- Breakfast and Opening Introductions
- GMP 101 The Basics
- 21 CFR Part 11 Basic Overview
21 CFR Part 11 Definitions, System Types and Classifications
21 CFR Part 11 Electronic Records; Electronic Signatures – Predicate Rule
Part 11.10 Sections a) - k)

(a) Validation
(b) Copies of records
(c) Protection of records
(d) Limiting system access
(e) Audit trails
(f) Operational system checks
(g) Authority checks (h) Device checks
(i) Education, Training, Experience
(j) Policies and Procedures
(k) Systems documentation

Risk Analysis - Determine Which Systems Need to be Validated
Steering Committee and Charters
- Lunch
- 21 CFR Part 820 Device GMPs (With correlations to QSIT and ISO 13485)
GMP Basics 101
Part 11 Overview
Scope and Definitions
Quality System Requirements
Management responsibility
Quality audit
Personnel
Design Controls
Document Controls
Purchasing Controls
Identification and Traceability
Production and process controls
Inspection, measuring, and test equipment
Process validation
Acceptance Activities
Receiving, in-process, and finished device acceptance
Acceptance status
Nonconforming product
Corrective and preventive action
Device labeling
Device packaging
Handling
Storage
Distribution
Installation
Records - General requirements
Records - Device master record
Records - Device history record
Records - Quality system record
Records - Complaint files
Servicing
Statistical Techniques
Day 2 Topics
- Breakfast
ISO 13485:2016 (with Comparisons with ISO 13485:2003 and 21 CFR Part 820)
Definitions
Quality Management System

Quality Manual
Medical Device File
Control of Documents
Control of Records

Management Responsibilities

Management Commitments
Quality Policy
Planning
Responsibilities, Authority and Communications
Management Review

Recourse Management

Provision of Resources
Human Resources
Infrastructure
Work Environment and Contamination Control

Product Realization

Planning of Product Realization
Customer Related Processes
Design and Development
Purchasing
Production and Service Provision
Control of Monitoring and Measuring Equipment

Measurement, Analysis and Improvement

Monitoring and Measurement
Control of Non-Conforming Product
Analysis of Data
Improvements
- Lunch - Warning Letters
- Validation and Qualification (Electronic Systems)
Definitions
GAMP Overview
Risk Analysis - Determine Which Systems Need to be Validated
Software / System Development Life Cycle (SDLC)
Compiling the Validation Master Plan (VMP)
Project Plan (PP) Development
User Requirement Specifications (URS)
Functional Requirement Specifications (FRS)
Design Specifications / Design Qualifications (DQ)
Installation Qualifications (IQ)
Operational Qualifications (OQ)
Performance Qualifications (PQ)
Auditing GxP Computer Systems
- Questions and Answers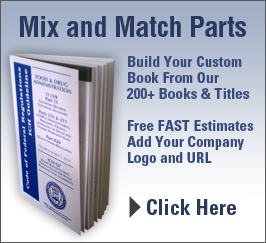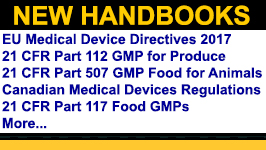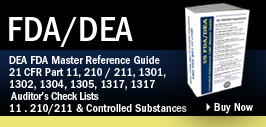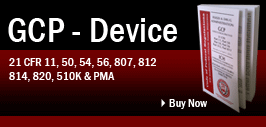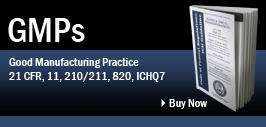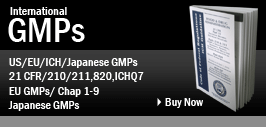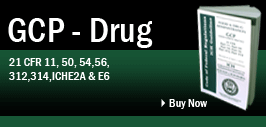 Guaranteed Lowest Price
Quantity Discounts Available
Always Current, Up-To-Date
Company Logos Available
Special Customizations
Pocket-sized 3.75" x 6.25"
Prep for FDA & Client Audits
Employee Training & Reference
Promotional "giveaways"
Tradeshows and meetings