ICH Q7 with Q7 Auditors Check List
Upgrade your order or view other GMP Products that you may be interested in:
2 Day Drug GMP Boot Camp - November AC
Don't just get the books! Get the Training!
---
2 Day Pharmaceutical Drug GMP Boot Camp
(21 CFR Part 211 with ICH Q7 API)
'cGMP Training from the Auditor's Perspective'
5 - 6 November, 2018 - Atlantic City, New Jersey
---
(For Medical Device Boot Camps Click Here)
$995.00 USD - Sign-up Today!
Marriott Courtyard
Atlantic City, NJ
All Boot Camps Conferences Includes:
GMP Seminar Binders
Handbooks
Certificates of Attendance
Breakfast, Lunch and Refreshments
Day 1 Topics
- Breakfast and Opening Introductions
- GMP 101 The Basics (Satisfies the annual GMP Training Requirements)
- 21 CFR Part 11 Basic Overview
21 CFR Part 11 Definitions, System Types and Classifications
21 CFR Part 11 Electronic Records; Electronic Signatures – Predicate Rule
Part 11.10 Sections a) - k)

(a) Validation
(b) Copies of records
(c) Protection of records
(d) Limiting system access
(e) Audit trails
(f) Operational system checks
(g) Authority checks (h) Device checks
(i) Education, Training, Experience
(j) Policies and Procedures
(k) Systems documentation

Risk Analysis - Determine Which Systems Need to be Validated
Steering Committee and Charters
- Lunch
- 21 CFR Parts 210/211 Drug GMPs - (with ICH Q7 - API Correlations)
GMPs - The Basics - Quality Definitions, CAPA, Deviations, Non-Conformance
Organizational & Management Responsibilities
Document Control Program
Employee Orientation, Quality Awareness, and Job Training
Plant Safety and Security
Internal Quality/GMP Training Session Program
Quality Cost Program
Design Control
Facility Design and Layout
Environmental Control Program
Facility Maintenance and Good
Housekeeping Program
Outside Contractor Control Program
Equipment Design and Placement
Equipment Identification
Equipment Maintenance & Cleaning
Measurement Equipment Calibration Program
Equipment Qualification Program
Material/Component Specification and Purchasing Control
Material/Component Receipt, Inspection, Sampling, and Laboratory Testing
Material Component Storage and Handling
Inventory Control Program Vendor (Supplier) Control Program
Material/Component/Label Verification, Storage, and Handling
Equipment/Line/Area Cleaning, Preparation, and Clearance
Operational Process Validation and Production Change Order Control
Day 2 Topics
- Breakfast
- 21 CFR Parts 210/211 Drug GMPs (Cont.)
In-Process Inspection, Sampling, and Laboratory Control
Reprocessing/Disposition of Materials
Finished Product Verification, Storage, and Handling
Finished Product Inspection, Sampling, Testing, and Release for Distribution
Complaint Handling and Customer Satisfaction Program
Operational Process Validation and Production Change Order Control
In-Process Inspection, Sampling, and Laboratory Control
Reprocessing/Disposition of Materials
Finished Product Verification, Storage, and Handling
Finished Product Inspection, Sampling, Testing, and Release for Distribution
Distribution Controls
Marketing Controls
- Lunch
- Recall and Traceability
- cGMP for Sterile Drug
- ICH Q9 Quality Risk Management
- ICH Q10 Pharmaceutical Quality System
- cGMP for Phase 1 Clinical
- Questions and Answers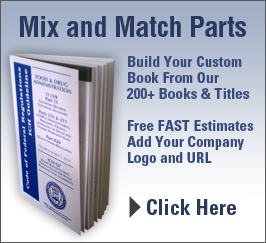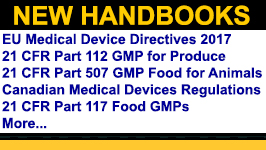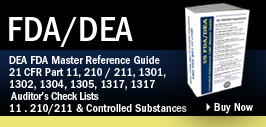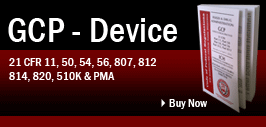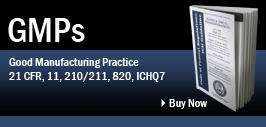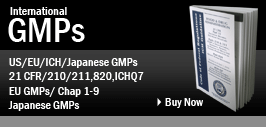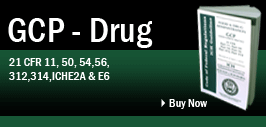 Guaranteed Lowest Price
Quantity Discounts Available
Always Current, Up-To-Date
Company Logos Available
Special Customizations
Pocket-sized 3.75" x 6.25"
Prep for FDA & Client Audits
Employee Training & Reference
Promotional "giveaways"
Tradeshows and meetings